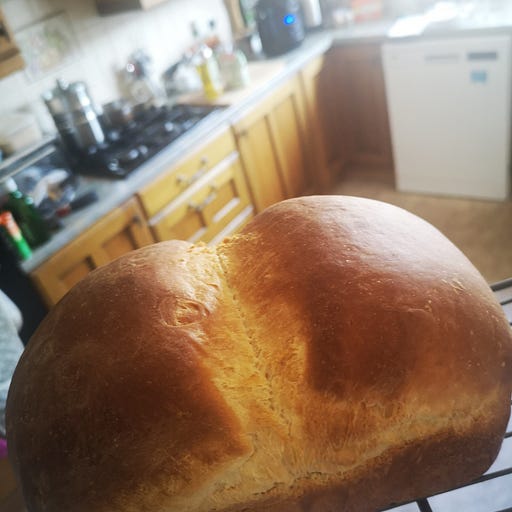 Jun 23, 2021 • 7M
Live and let Live
Join me on LinkedIn Live for workshops building bulletproof brands and businesses
Greetings! It's so good having you here. Smell that bread? Glorious. I'd like to get to know you and your fantasies a little better. So if you're just stopping by and haven't yet become a fully-fledged member of the club, subscribe. It costs nowt and the benefits are staggering*.
MORNING!
Humpday's here. From nowhere. Woke up this morning convinced it was Monday and won't you just look at that - it's already halfway to the weekend.
You must have been working hard. Only the good get the great. And now we're all sharing the spoils. There's no better feeling than coursing towards another couple of days' freedom. And a couple days closer to the end of Euro 2020. Yup, not a fan. And it does tend to disrupt schedules. Still, look on the bright side - it's Love Island next week!
Although if Japan gets its way, you could be looking at an even better break. Fancy a three-day weekend? It could be on the cards.
With accelerating time comes an abbreviation of output. Rumours for decades we're living in a simulation. I can't think of any other way it's now, at about 11am on Monday.
How do we grab time as it flies by? We need to adjust our schedules. Four-day workweeks are just one way. Just Walk Out is another. Imagine being able to open your store 24/7 without staffing it. It's already happening in the US' Midwest. Pay $50 a year - similar to Costco - and you get a key. Let yourself in, do your shopping - at 3am. A bit like staying at a B&B and using the honesty bar, except walking out with soapy suds, veg for the chilli, and a hollow sense of missing the chance to talk to people in a world that's missing human touch more than ever.
Ready, steady… bake! I tried my hand again this week at shokupan. I've been looking for a loaf sitting between a regular sandwich and a full-on, greedy brioche. Shokupan is a Japanese bread that floats on air but provides a pretty decent steed for fillings. I asked my friend Nigella Lawson for her favourite shokupan recipe and it delivered on all counts. Second time around I decided - accidentally - to add in the tangzhong (flour and water slurry) midway through the mixing process, rather than the beginning when it should be infused. Cue a rather exciting Something About Mary moment as the roux brew flew everywhere…
What can you do with a kilobyte? Play a mean game of chess. Kilobyte Gambit packs quite the punch on the chequered board. Tried beating it a dozen times. Lost - 12 times.
Brouhaha over Amazon's 'destroy' policy for many of its returned items. The etailer denies it sends goods to landfill sites. ITV trailed its trucks and disputed the claim. Wonder how long it'll be until Amazon completely denies anything happens outside its distribution centres, blaming robots for taking over.
The magnificent Dave Trott told a great tale about a racing driver able to win a race after his engine malfunctioned - by knowing everyone else's job.
LinkedIn Live
As you know, in my other life I rather enjoy helping people and their companies to ace content strategy and copywriting.
I was delighed to finally be accepted by LinkedIn as a Live broadcaster. So I quickly set about producing some workshops.
So far we've covered creating quicker conversions finding your voice through conversational marketing, and creating your first newsletter.
If you run a business or work in a marketing team and struggle with creating content that converts customers, or need someone to review your website or apps to make them work harder, you know where I am.
Thack of the bus
From hereonin this newsletter has a new identity. It reflects the rowdy, rebellious nature of our creator-driven world - and my place in it.
I'm happy to be persuaded that's not a good name. It won't take much.
One more thing…
Anyone got experience applying to register a trade mark?
Thank YOU
Love you. See you soon. And don't forget to tell me whether you like this stuff or whether like that oven with the shokupan inside, I should have turned it off earlier…
Also, if you want to jump on my podcast and share a story or tell a tale - I'm always up for that. I want you.
Bye, then.